fix bar
fix bar
fix bar
fix bar
fix bar
fix bar
About Running Brook Children's Nursery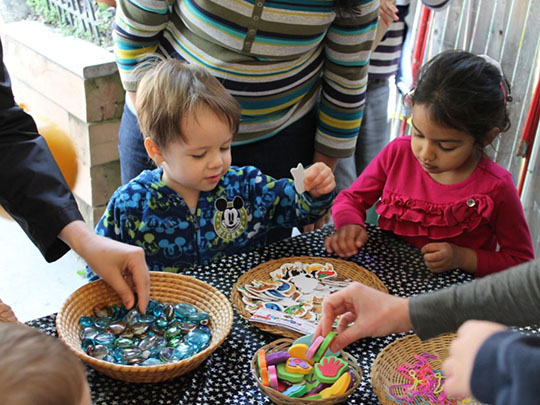 Running Brook Children's Nursery (RBCN) is a co-operative preschool. A co-operative preschool is a school established and directed by parents. Parents select and hire a qualified teaching staff, take turns working beside teachers in the classroom, and manage all the institutional needs of the program. Parent participation keeps costs relatively modest, compared to schools run on corporate systems. Co-op schools have a community feel, and families tend to form close relationships that last well beyond the pre-school years.
RBCN was established in 1969. Our school is based on a collaborative effort between parents and teachers, dedicated to bringing meaningful and enriching experiences to preschool children, and building a supportive community for their families. RBCN offers a preschool program for two, three, and four-year-old children. Our teachers are highly qualified and experienced.
RBCN is a non-profit educational institution. We are an equal opportunity employer, and follow state and federal governmental guidelines for non-discrimination in hiring and acceptance policies.
We hope you'll take some time to explore our site and learn more about our school! If you have additional questions or are a prospective parent interested in visiting our school, please e-mail us at [email protected]
The vision and mission of Running Brook Children's Nursery is to provide a high quality early education program for preschoolers, which is focused on support for families, responsive and sensitive to the interests and needs of the local community, supportive of social, cultural and linguistic diversity, mindful of creating a nd sustaining community connections, and dedicated to welcoming, encouraging, and supporting the full engagement of the families its serves in every possible way.
All children, including those with special needs, deserve safe, nurturing, and developmentally appropriate care. We welcome all children into our program, and work cooperatively with community support agencies to offer appropriate care and education.

Play based learning
Play based learning provides a child centered curriculum, based upon developmentally and age appropriate early childhood standards, supported by research and aligned with current best practices in the field.
Play is a child's work: The spirit of play must be present in all aspects of early childhood learning.

Developmentally appropriate, research based best practices
These include attention to health and safety, social & emotional development, developmentally appropriate curriculum, careful program administration, staff development, community involvement, and maintaining a supportive, nurturing environment for all of the families in our care.

Foster a sense of belonging
We believe that children learn best when they have a strong sense of belonging and are provided an atmosphere in which to discover the world on their own, in their own time, according to their own abilities and interests. Our families and staff members work cooperatively to create a safe, loving environment.

Fostering active engagement of families in our program
Parents volunteer in classroom on a regular basis as members of a co-operative school. They serve as primary administrators, help to develop policy, conduct ongoing evaluations of the program, and serve as committee members to ensure the smooth functioning of the program as a whole.

Strong ties with community agencies & resources
We recognize that community connections are vital to providing support to families and increasing the strength of our program. We have well established links throughout the broader community in Howard County and promote partnerships that strengthen our families.

A strong commitment to professional development for our staff
A quality program depends upon a high level of professional training. We support our teachers in activities which advance their skills, knowledge and professional credentialing in the field of early care and education.
Ongoing program evaluation and self improvement
We strive to continuously improve the program though rigorous annual self-evaluation using the standards established by the MSDE accreditation instrument.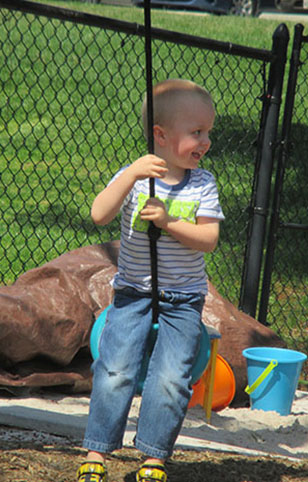 2
Day
2-day classes
Age 2 by September 1st
12 students (max)
1:3 adult to child ratio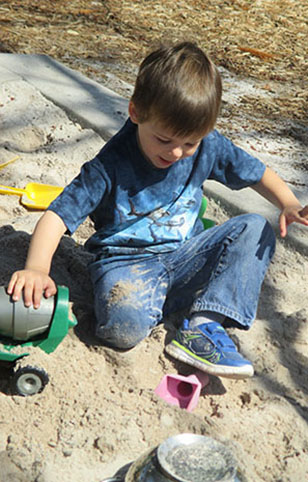 3
Day
3-day classes>
Age 3 by September 1st
M, W, F 9:00a-11:15a
16 students (max)
1:5 adult to child ratio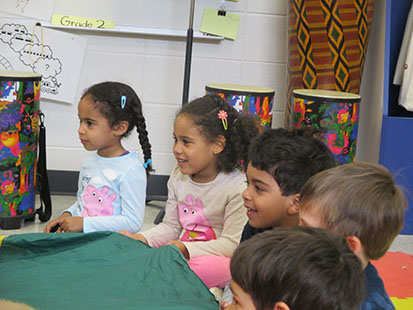 4
Day
4-day classes
Age 4 by September 1st
M, Tu, Th, F 12:45p-3:15p
16 students (max)
1:5 adult to child ratio
"The Program at RBCN far outshines any program I have seen or heard about. When my first child went to kindergarten, he knew things about science and social studies than no other child in his class knew, thanks to RBCN."
"The curriculum meets the social needs of my child, which at this age, I understand is very important. She has learned to express her feelings beautifully this year. The teachers are both very approachable and give me insight into my child's development. Mrs. Jo has given terrific child rearing advice outside of school on her own time, which is very admirable."
"I love the way the children are always learning even when they think they are only playing."
"My child loves going to school, loves the teachers and views RBCN as a safe, warm place to be, which as a parent, is very important to me."
"I am amazed at how well Mrs. Jo knows my child. In her evaluations and conferences – she is right on the mark. I am sad that my child is graduating, but I know he is so well prepared for kindergarten.
"Many thanks to our teachers who put tremendous time, energy, and care into making RBCN the wonderful, child-centered preschool that it is."
2-Year-Old Class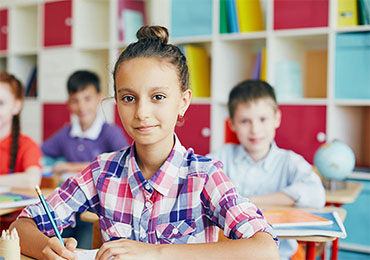 Annual Fees
Registration: $65 ($45 for returning members)
Materials: $92
Insurance: $231
$163
Monthly Tuition
3-Year-Old Class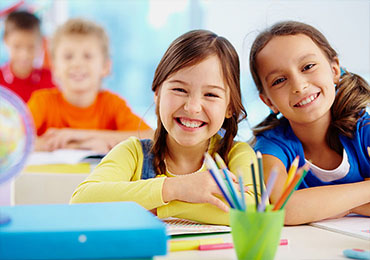 Annual Fees
Registration: $65 ($45 for returning members)
Materials: $136
Insurance: $231
$210
Monthly Tuition
4-Year-Old Class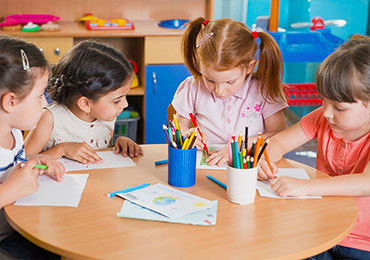 Annual Fees
Registration: $65 ($45 for returning members)
Materials: $180
Insurance: $231
$266
Monthly Tuition
Fees & Payment Schedule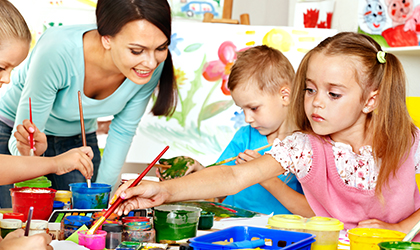 Annual Fees
Registration fee is due upon enrollment in the school.
Insurance and Material Fees are due by May 1st of the current school year.
Monthly tuition payments for September through April are due on the 1st of each month, with the last payment (for May) due in advance at the beginning of the school year.